Are you staying in Bangalore? Do you own a house in Bangalore? Do you want to get paid for electricity from the government for the next 25 years? Does this all sound too good to be true?!
Well, it isn't really funny! You can actually get paid from the government every single month for electricity that you will be sending back to the grid/mains from your solar production.
But how to get to that point? How to get a solar system in my house? What size? Which type? It all seems too complicated. Too tedious. Let us take you through a real journey of a person just like you Mr. Raj Shekhar who stays in Bangalore and has just gone solar with ZunRoof, a home tech company that provides smart solar solutions to residential customers just like you.
This story is being narrated by Mr. Raj Shekhar and his family, residents of Bangalore, who decided to switch to solar.

WHY OPT FOR SOLAR- WHAT WAS MR. RAJ'S STORY?
Mr. Raj led a normal life like most of us, 9 to 5 working hours, a family to raise and no time to spare. The area where this home is located had sufficient power supply but the per unit rate of electricity was high, something that a lot of us are struggling with.
Raj lives with his family in his own house that he bought a few years ago and owns his own roof. Like any regular house, he owns fridges, TV's, geysers and other electrical loads.
Every month Raj paid electricity bills of about INR 6000. One weekend while surfing through the internet he read about how Bangalore government is giving fantastic benefits to residential customers who have switched to solar. So very instinctively Raj typed 'How to get solar in Bangalore' on Google. He saw ZunRoof, a home tech company, provides excellent solar solutions in Bangalore.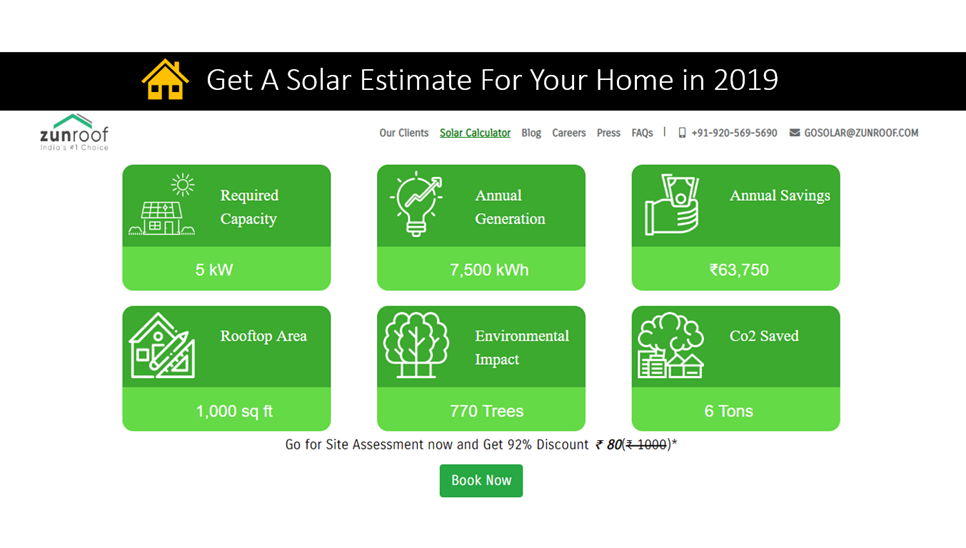 He also wanted to understand what type of system and how much savings could he possible have so he checked out ZunRoof's Solar Calculator https://www.zunroof.com/calculator/ – a brilliant tool that will show you approximate size of the system you need, annual generation from that system and most importantly annual savings!
So Raj then filled up his details on ZunRoof's website. Next day solar experts from ZunRoof visited his home thus began the wonderful journey of Raj as a happy ZunRoof Client.
As a part of ZunRoof's regular procedure, we first went to his home and carried out a detailed site assessment and suggested him to install a 5KW Grid Tied-solar system in his home.
WHY GRID TIED INVERTER?
A Grid tie inverter would not only reduce his monthly electricity bill by running the home load on solar but would also help him earn money by selling the excess solar power produced by solar panels back to the grid.
Grid-tie solar inverter, also known as the on-grid solar inverter, works in connection with the main grid. It offers the advantage of running load directly through solar and selling excess solar power back to the electricity company by feeding the grid. A grid-tied inverter can only be installed in areas where mains supply is sufficiently available, which was perfect for Raj's home.
Bangalore, the state of Karnataka, receives approximately 11 hours of daylight every day in this month of April. And investing in solar power in this area would bring perfect results and reduce electricity bills to a maximum.
Mr. Raj says 'We are so happy with the solar installation in our house. ZunRoof really made it easy for us to tackle the whole procedure of going solar. Many thanks to the IITian team and the great work they are doing'
Raj and his family also enjoy monitoring their daily solar production through ZunRoof App which is connected to a Smart IOT device and shows all current statistics and performance details for the system connected at Mr. Raj's home! Here is a glimpse of what all this app can show!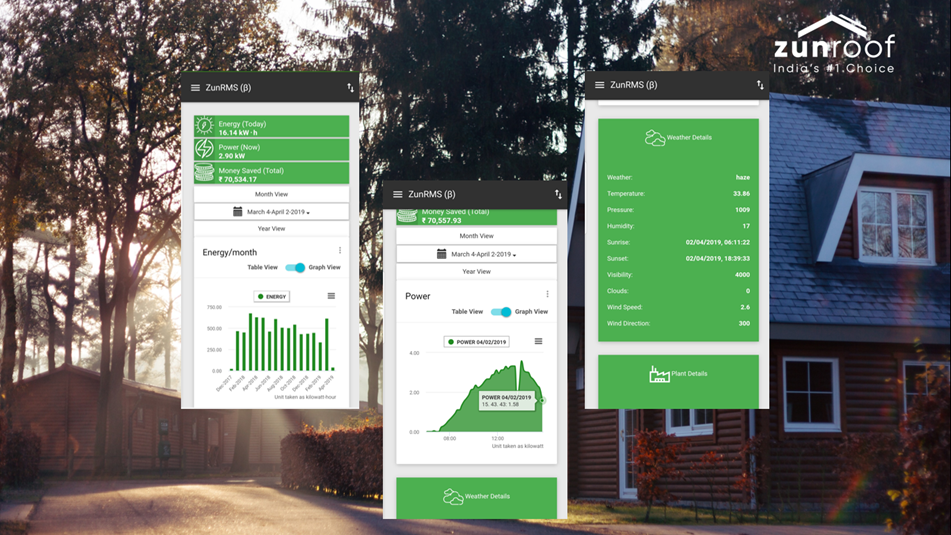 We wish Raj and his family all the best with their new solar installation!
To watch us live in action and hear what our customers have to say about us, click on this video – https://www.youtube.com/watch?v=es_SDsqb91M
For further details please feel free to reach out to us on our Facebook page and know more about us here facebook.com/zunroof.
You can also reach out to us by filling the form below:
Grab Exciting festive season offer in Solar. To avail an offer, Book your solar site assessment in just INR 80 and get a gold coin also after placing an order with us. To Know more visit us on zunroof.com or call us on +91-920-569-5690.
*T&C apply