India's Digital Progress – Live Energy Monitoring Gains Popularity In India 2019 #SolarOnFingertips
With the government heavily promoting solar for residential rooftop solutions in India, people across the country are switching to solar as we can keep count. The irony, however, is that citizens of India still find it difficult to fully understand this highly technical subject that is 'solar power'.
Here is a story of a family who took up solar for their home in Uttar Pradesh, purely motivated by this solar monitoring app that made it easy for them to understand their solar installation system and be a fully informed solar citizen!
WHY OPT FOR SOLAR- WHAT WAS MR. RAJAN'S STORY?
R K Gautam and his family, residents of Mathura, Uttar Pradesh decided to go solar with ZunRoof a home tech Indian Solar Rooftop solutions provider. This family has turned into a solar tech family making full use of the trending 'solar on fingertips' technology!
The area where this home is located has enough power supply but the per unit rate of electricity is high. Like any regular house, Gautam owns fridges, TV's, geysers and other electrical loads.
He then went online and started doing some preliminary research and stumbled upon the ZunRoof website as he scurried through the internet and was impressed to see ZunRoof's solar monitoring app. This app allows users to view live solar production anywhere, anytime! He then decided to call us and thus began the wonderful journey of R K Gautam as a happy ZunRoof Client.
As a part of ZunRoof's regular procedure, we first went to his home and carried out a detailed site assessment and suggested him to install a 3KW Grid Tied-solar system in his home.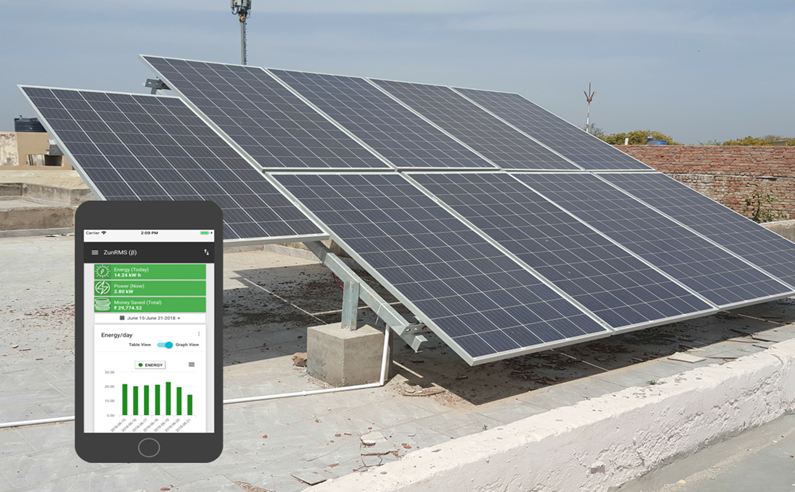 ZunRoof then suggested for the following system configuration to be installed in his home :
TECHNICAL SPECIFICATIONS
1. MNRE Approved Grid Tie Solar Inverter (Single Phase)- 3kWp
2. Solar Panels – 9 panels, 330W each.
HOW DID THE ZUNROOF APP MAKE LIFE EASY FOR GAUTAM AND HIS FAMILY?
The solar monitoring app created by ZunRoof's technical solar team is an advanced application that allows users to track solar production from their plant, receive customizable reports, weather updates and a lot more. Users can enjoy-
Solar Production Alerts
Savings on Electricity Bill
Maintenance Alerts
Daily, weekly, monthly alerts and a lot more!
UNITS GENERATED BY ZUNROOF SOLAR INSTALLATION
The system is expected to generate approximately 9 units of electricity daily depending on weather conditions and the region where is it installed. The installation at Gautam's home was a great success. The system is now running on solar and it has helped to resolve his problem of high electricity bill!
The net metering and subsidy given by the government make solar power a very cost effective and affordable solution for one and all.
Mr. Gautam says 'It was a pleasure associating with ZunRoof. I was happy with the ease of solar tracking through the app. Many thanks to the IITian team and the great work they are doing'
We wish R K Gautam and his family all the best with their new solar installation!
To watch us live in action and hear what our customers have to say about us, click on this video – https://www.youtube.com/watch?v=es_SDsqb91M
For further details please feel free to reach out to us on our Facebook page and know more about us here facebook.com/zunroof.
PS: We are just a phone call away!