Tradeoff between trees and solar:
Do you know 3 kilo-watt solar system eliminates 4 tons of CO2. That 4 tons correlates to the carbon absorption capability of more than 460 Trees. From a carbon offset standpoint, the solar array is a big win. So from both a financial standpoint and an environmental standpoint – and shouldn't stand in the way of installing a solar energy system on your home.
So for people who want to be richer and younger, we recommend keeping solar panels on rooftops, and spending more time with trees. Therefore choices are yours.
Help Us in keeping the air clean & partner with the Sun(ZunRoof) to reduce air pollution by installing solar.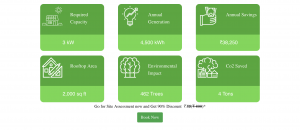 So If You don't want to melt the polar, You should all Go solar! Most importantly help us in making earth a better and healthy place.
Did you enjoy this article? If so, Please like and share our post. Your contribution will help us to achieve and maintain this impact.