Solar system costs have declined by 27% over the last three years, making solar rooftop a lucrative investment. Lower costs, favourable government schemes policies and option to offset your electricity bill via net metering make a strong case for installing grid tied Solar PV rooftop systems for your homes.
In grid connected solar rooftop system or small SPV system, the DC power generated from SPV panel is converted to AC power using power conditioning unit. This is fed to the grid either of 33 kV/11 kV three phase lines or of 440/220 Volt three/single phase line depending on the capacity of the system installed. Around 10 sq.m area is required to set up 1 kWp grid connected rooftop solar system.
These systems generate power during the day time which is utilised fully by powering captive loads and feed excess power to the grid as long as grid is available. In case, where solar power is not sufficient due to cloud cover etc., the captive loads are served by drawing power from the grid.
Government schemes and Incentives for Solar projects
 Central Financial Assistance provides subsidy of 15% of the total cost or Rs. 12 per watt or Rs. 1.20 crore per MWp under the Grid Connected Rooftop and Small Solar Plants Programme of the Ministry

There are provisions of concessional import duty/excise duty exemption, accelerated depreciation and tax holiday for setting up of grid connected rooftop power plants

20 States have developed Solar Policies supporting Grid Connected Solar Rooftop Systems

Some State Governments also provide capital subsidy in addition to CFA provided by MNRE

State Electricity Regulatory Commissions of 34 States/UTs have notified regulations for net-metering/gross-metering
Net Metering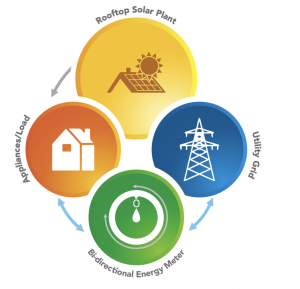 The way electricity is billed strongly influences profitability of the PV investments. To fully harness the benefits of the investments, the final user should be able to make the most of metering system.
Net metering systems are primarily aimed at providing an opportunity to consumers to offset their electricity bills. A single meter records both import of conventional energy from distribution grid and export of solar energy into distribution grid. Thus, net metering allows the final user to credit produced energy in the grid and is also promoted as a preferred option.
Benefits From Grid  Connected Solar Rooftop System
Utilisation of available vacant roof space

Low gestation period

Lower transmission and distribution losses

Loss mitigation by utilisation of distribution network as a source of storage through net metering

Long term energy and ecological security by reduction in carbon emission
To install a grid tied solar PV rooftop system please fill below form and Zunroof will give you a call within 24-48 hours.