Amrit Kaur, a resident of Chandigarh used to remain tensed most of the time because of high electricity bills. She thought to fix the problem with the permanent solution, she decided to switch to a renewable source of energy. Therefore, she came up with an idea to go for solar energy as it is the cheapest and abundantly available.
Her first choice was ZunRoof, as she believed that this is a brand which can be trusted and the services were on time. She contacted the solar experts of ZunRoof, and depending upon her electricity bill & the consumption rate, she ordered a 5kW of on-grid solar rooftop systems.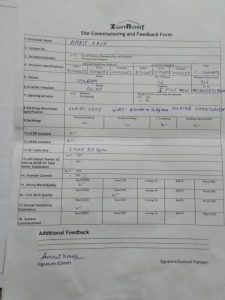 She was quite happy with our services and the quality of the panels. She says, "That ZunRoof: a team of high professionals and does everything as per the schedule." The customer was quite satisfied with our services and the product, he highly recommends our services to others. Throughout the process of installation, the customer was co-operative and generous.
Go solar with zunroof