Till now, you have heard that solar can reduce your electricity bills up to 100%. But, do you know that installing solar can also increase your property value. Yes, you heard me correct. It is possible with the installation of solar. Adding a solar on your rooftop is an economic decision which can potentially improve the financial conditions of your family.
Home solar can eliminate your electricity bills and adding a rooftop solar is just a best real estate investment as it can increase the value up to 3-4 %. The combined benefit of the higher resale value and lifetime energy savings makes out the best financial investment.
A study was conducted by Lawrence Berkeley Laboratory, where it was analysed that the sale of nearly 4,000 homes with solar where the buyers decided to pay $12,000-$15,000 for a house. California is booming solar industry state, as it was seen that it turned out to be the largest real estate market in the US.
Not only this, SEIA has reported that there are around 1.5 million residential houses with solar and every new ones are being added in 90 seconds.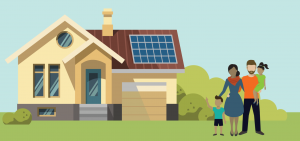 This acts as one of the evidence that solar has the ability to increase the property value. This has happened in the country like India, solar is the blessings in disguise for the entire human community. You can get many benefits and lifetime investments for the entire future. Its a great news as the property owners can resale their homes and can get the premium amount in return. Now, it's your turn to make a right decision by going solar.
Go solar with zunroof