South Western Railway (SWR) has initiated the process of tapping solar energy to meet the power requirements of Ballari railway station, coming under Hubballi division. The work of installing solar panels on top of the sheets on Platform No. 1 has already commenced and an estimated 120 kW of power is expected to be tapped.
The work of producing non-conventional energy has been entrusted to a private agency.
Railways have only provided the space and the agency had to incur the cost of installation and sell the power to Railways at a price lesser than the one being charged by the State-owned power company, sources in Railways told The Hindu, adding that the agency should also maintain it for 25 years. The work is expected to be completed by December this year and the railway station would be ensured of the uninterrupted power supply.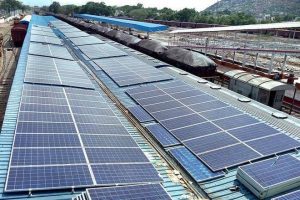 The power tapped would be used for lighting in all the four platforms and some of the offices in the railway station.
Similar initiatives were also proposed to be taken up a few more stations coming under Hubballi division including Hosapete, Gadag, Hubballi and Belagavi.