Do you know that Taj is not India's leading tourist attraction in terms of ticket sales but the Ranthambore National Park? The national park has generated record-breaking revenue for the forest department in the last two years.
Besides being the most popular tiger reserve from past 45 years, the 65 check posts in the forest area did not have the electricity. Instead, the guards at the posts used to have lanterns for lights. But now, some of the posts have got electricity from the setting up of solar panel, which has also helped in getting other facilities including the working of fans at the posts.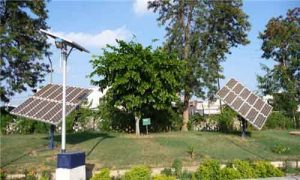 Along with the forest workers, the solar panel is proving to be beneficial for animals too. Where the drinking water for the animals was taken out from the tubewell using the diesel engine, now it can be extracted with the help of the solar panel.
The setting up of more solar plants is underway and the electricity will be available on the remaining posts as well.
With the growing popularity of Ranthambore National Park, the number of forest employees has also increased along with the Tigers. It can be said that the facilities in the forest area are getting better, which is also increasing the revenue generated from the tourists, as more people are visiting the place.
To read more click here.