After an increase in petrol and diesel prices, the price of Liquefied Petroleum Gas or LPG has been increased today by Rs. 2.34 for subsidized and Rs. 48 for non-subsidised cylinders. The new price for a subsidised cylinder in Delhi is Rs. 493.55, while that of the non-subsidised cylinder is Rs. 698.50. The prices of LPG have increased in Kolkata, Chennai and Mumbai as well.
The new rates for the subsidised cylinder are Rs. 496.65 in Kolkata, Rs. 491.31 in Mumbai and Rs.481.84 in Chennai. The new prices for the non-subsidised cylinder are Rs. 723.50 in Kolkata, Rs.671.50 in Mumbai and Rs. 712.50 in Chennai.
This comes after the Central government was criticized for increasing the fuel prices for 16 consecutive days until May 30.
The last three days have seen marginal cuts in petrol and diesel prices in the range of 11-15 paise per litre. With effect from 6 is on Friday, June 1, petrol prices were at Rs. 78.29 per litre in Delhi, Rs. 80.92 per litre in Kolkata, Rs. 86.1 per litre in Mumbai and Rs. 81.28 per litre in Chennai, according to Indian Oil Corporation. Diesel prices were at Rs. 69.2 a litre, Rs.71.75 a litre, Rs. 73.67 a litre and Rs. 73.06 a litre respectively.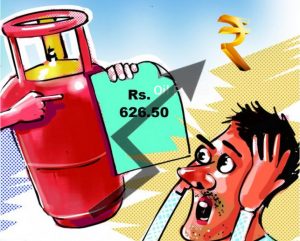 Last week, Prime Minister Narendra Modi while talking to beneficiaries of Ujjwala Yojanasaid that government has given 10 crore LPG connections in the last four years. Of this, four crore connections have been given for free to women from economically weak families, and 45 percent of the beneficiaries were Dalits and tribals.
The prices for LPG cylinders – at subsidized and non-subsidised rates – were lowered five times in the calendar year 2018. In May, non-subsidised LPG prices were revised downward in the range of Rs. 0.5-3 per cylinder of 14.2 kg in Delhi, Kolkata, Mumbai and Chennai, according to data from Indian Oil Corporation, which supplies the cooking gas under brand Indane.
While the change in subsidized LPG prices was of magnitude 2-14 paise per litre, the overall change in non-subsidised LPG prices was nearly Rs. 100 per cylinder in the last five consecutive reductions.