Diu has become one of the first states in India to run entirely on solar energy. The island is the tenth least populated district of India with 50 acre of barren land which can be easily used to convert natural resources into energy.
Power phases in Diu island
Earlier, the district was paying Rs 80 lakh a month to get power from Gujarat. Moreover, there was major electricity loss, since it had to be transported through 25-30 km of transmission lines, supply voltage was affected.
The district was able to fetch around 59-60 KV power supply; however, now, with solar panels, it is generating 66 KV.
While using solar energy, people are not going to pay hefty electricity bills. Now, the rates for domestic consumers (consuming 51-100 units) have come down from Rs 1.80 per unit in 2016-17 to Rs 1.17 in 2017-18.
The district has already been generating 1.27 MW electricity though solar cell panels and now government has given a subsidy of Rs 10,000-50,000 to install 1-5 KW of rooftop solar panels.
Solar energy plans
After setting a massive solar cell panel in the state, Diu is all set to start the windmills by 2019 which would generate 6.8 MW energy. The district will have around four windmills by 2019 at a cost of Rs 51.6 crore, making it an energy self-sufficient island.
Solar panels India vs World
Solar installed capacity in India has reached 20 GW in February 2018, expanding the solar-generation capacity by eight times from 2,650 MW on 26 May 2014 to over 20 GW as on January 31, 2018.
Andhra Pradesh, Rajasthan, Tamil Nadu, Gujarat, Maharashtra, Madhya Pradesh, Kerala are some of the states with solar cell panel rooftops.
In order to conserve energy and curb itself from heavy electricity export bills, most populated countries like China and India are planning to use solar panel rooftops.
China leads the race in solar energy, followed by Japan, Germany, United States, Italy, United Kingdom, India, France, Australia, Spain, respectively, among many others.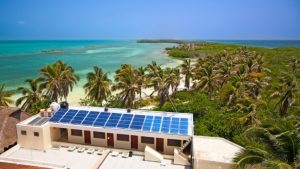 Solar stories
Following the footsteps of Diu, several educational and government bodies are planning to install with solar cell panel rooftop.
Jamia Millia University in Delhi will be completely solar powered by June

Villages in the interiors of Arunachal Pradesh

Varanasi might go 100% solar before 2025