The SoftBank Group is tying up with infrastructure conglomerate IL&FS to develop more than 20 gigawatts of solar capacity in India by 2025 to support Prime Minister Narendra Modi's ambitious renewable energy road map for the country.
This comes less than two months after the Japanese group teamed up with China's GCL System Integration Technology for a $930 million (Rs 6,350 crore) India solar power venture.
SB Energy, the power and energy investment arm of SoftBank, and IL&FS' wholly owned IL&FS Energy unit have agreed to jointly develop grid-connected solar projects across the country. A formal announcement on the joint venture is expected this week, possibly as early as Monday.
SoftBank in 2015 had made a commitment that it would invest up to $20 billion along with Foxconn Technology and Bharti Enterprises in solar projects in India, which has a goal of generating 100 GW of solar power by 2022.
SB Energy is the platform for the investment and the IL&FS deal is likely to be a part of that plan SB Energy has already won bids for setting up 1400 megawatts (1.4 GW) of projects in India, including 300 MW at the Bhadla III Solar Park developed by Saurya Urja Company of Rajasthan Ltd, a JV of IL&FS Energy and the Rajasthan government.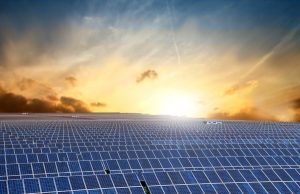 The proposed agreement involves IL&FS Energy taking up the development of infrastructure like substations, grid connectivity and arrangements for longterm access for power evacuation, in addition to providing other value-added services. SB Energy will take up installation, EPC and financing.
SoftBank chief executive Masayoshi Son is betting big on India renewables opportunity even though the group's demand to fix tariffs in dollars or a central guarantee to buy electricity from its power parks in lieu of its proposal to invest $1trillion by 2030 in India solar projects is reported to have faced resistance from the Indian government. According to an ET report on May 4, Son discussed these issues with the PM and power minister RK Singh during his trip to New Delhi earlier this month.
India has set a target of developing 100 GW of grid-connected solar energy capacities by 2022. The government has decided to auction solar projects totalling 30 GW of capacities each in 2018-19 and 2019-20, minister Singh told Parliament on March 8. The government would auction also 10 GW of wind energy projects in the two fiscal years as part of its efforts to generate 60 GW of power from that source by 2022, he had added.
Meanwhile, SoftBank is expanding its solar investment globally. Recently, the company announced it would invest in building the world's largest solar power project in Saudi Arabia, expected to cost up to $200 billion and have a capacity to produce up to 200 GW by 2030.